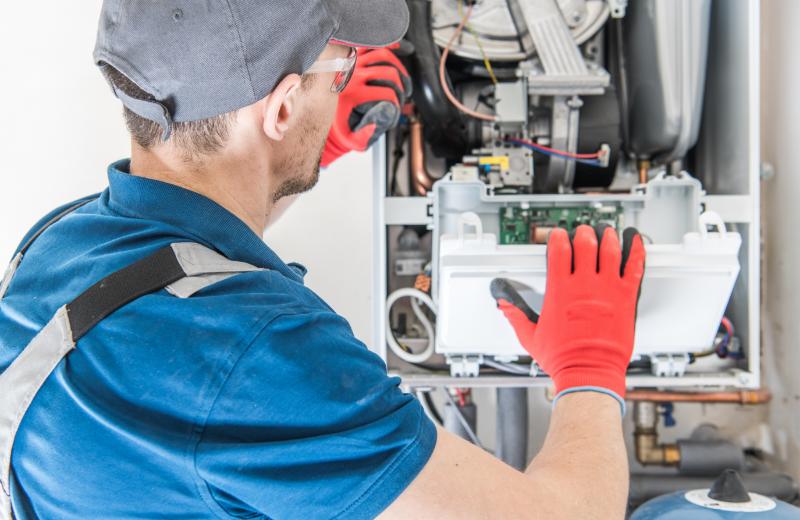 Furnace Repair Services in Seymour, IN
Is your furnace ready for another cold, snowy winter ahead? If your heating system struggled to provide comfortable warmth last season, it may operate even more inefficiently this year or completely break down, leaving you and your family cold and uncomfortable.
Having your furnace repaired at the first sign of trouble is one of the best ways to prevent breakdowns. Oftentimes, furnaces can still operate even when a repair is needed, albeit inefficiently. Ignoring the issue won't make it go away, either, as furnace problems often grow worse over time. If your air conditioning system is making strange noises, producing weak airflow, or short cycling, contact the HVAC technicians at Schneider Plumbing, Heating & Air Conditioning for furnace repair service in Seymour, Brownstown, Hayden, or Rockford, IN.
Common Signs Your Furnace Needs Repair
If you notice any of the following signs, it may be your furnace's way of telling you it needs repair:
Unusual Sounds
Aside from the sound of furnaces starting or stopping cycles, they are relatively quiet. Any unusual sounds such as rattling or banging, for example, could indicate loose, worn-out, or broken parts that need to be replaced.
Higher Energy Bills
Although monthly energy bills tend to be higher during the coldest months of the year, a significant increase in your bills compared to the same time a year ago could indicate your furnace isn't operating properly.
Weak Airflow
If your heater is running but you feel very weak airflow coming from the vents, several issues could be at play. First, check to see if your air filter is dirty and clogged. Replacing a clogged air filter can return airflow to normal levels. However, a refrigerant leak or frozen evaporator coils can also cause low airflow. If you notice these issues, contact a professional HVAC technician for repair service.
Short Cycling
Furnace short cycling occurs when your system turns on and off too frequently without properly heating your home. This can raise your energy bills and increase system wear and tear, leading to premature system replacement.
Uneven Heating
If some rooms in your home are hotter and colder than others, your HVAC system, ducts, or thermostat could be at fault. Common causes of uneven heating include a clogged air filter, leaky ducts, and short cycling.
Broken Thermostat
Sometimes issues with your furnace might actually be caused by your thermostat. An improperly functioning thermostat can cause short cycling, sporadic heating, and the inability of your furnace to turn on and off. The problem could be as simple as switching out the unit's batteries. If that doesn't work, though, contact an HVAC provider to repair or replace the thermostat.
The Benefits of Repairing Your Furnace
If your furnace is running with issues, you risk the chance of developing more serious and expensive repair problems. The quicker you have your furnace repaired, the less damage will occur. Some of the most common benefits of furnace repair service include:
Increased Comfort.

Low airflow or hot and cold spots around your Seymour, IN home can lead to severe comfort issues, especially on cold nights. A timely repair can significantly improve the comfort of your home.

Improved Efficiency.

Furnace repair can quickly restore the efficiency of your system which will lead to lower energy costs as your system will use far less energy to heat your home.

Longer Lifespan.

Furnaces often last about 15-20 years if regular maintenance and timely repairs are made. If you want to put off buying a unit for a few more years, have furnace issues fixed as soon as possible.

Safety. Neglected and faulty furnaces are a safety hazard that can lead to gas leaks, fires, and carbon monoxide poisoning. Keep your family safe by ensuring all components of your furnace are operating safely and properly.
Contact Schneider for Furnace Repair Service in Seymour, IN
When winter is in full force in the Seymour, IN area, make sure you have a reliable furnace that will operate efficiently in even the coldest weather. Schneider's team has more than seven decades of experience providing our community with reliable, professional, and cost-effective heating maintenance, repair, and installation service. Contact us today to schedule an appointment for furnace repair in Seymour, Brownstown, Hayden, or Rockford, IN.